Hurricanes Idalia and Franklin as Viewed by AIRS
Source: NASA/JPL-Caltech
Published: August 31, 2023
Idalia Before Landfall in Florida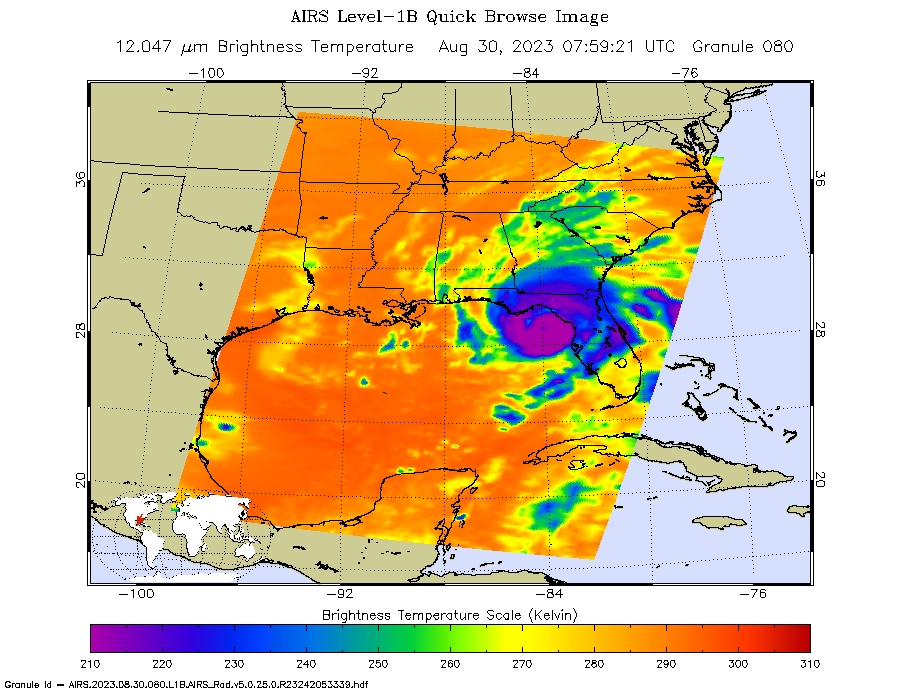 Idalia over the Southeast US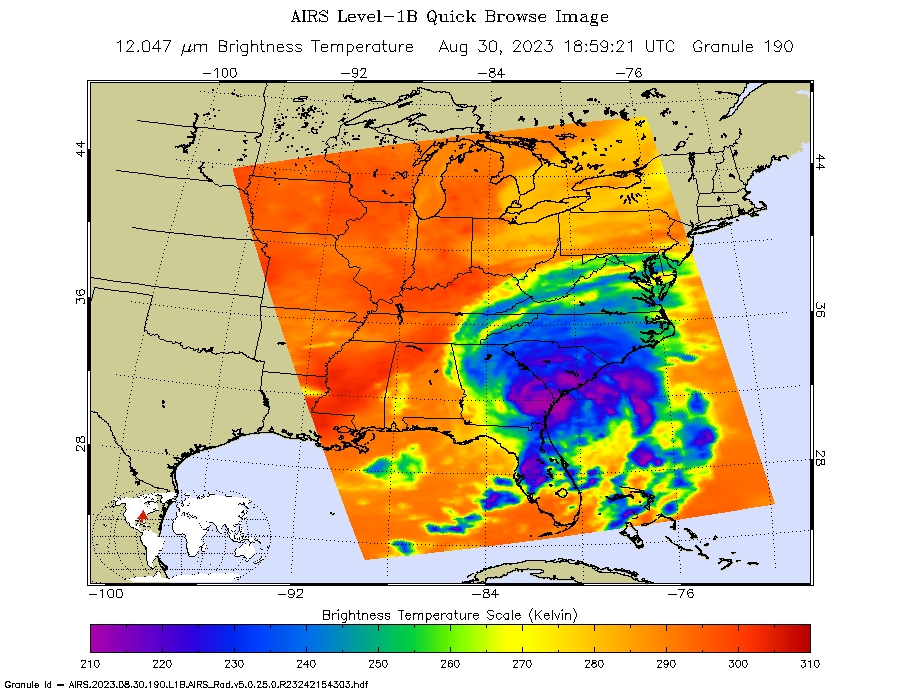 Idalia and Franklin over the Southeast US and Atlantic
Animation of Idalia's evolution
NASA's Atmospheric Infrared Sounder (AIRS) captured several views of Hurricane Idalia during the last days of August, 2023, with some of the views including Hurricane Franklin in the Atlantic Ocean.
The top image shows an infrared view of Idalia over the West coast of Cuba, with Franklin off to the East in the Atlantic. The other infrared images follow Idalia as it heads toward Florida and crosses the Southeastern US. Idalia made landfall on the coast of Florida's Big Bend near Keaton Beach at 7:45 am ET on Wednesday, August 30th, with strong 125 mph winds and significant flooding immediately threatening lives and properties in local communities. It was the strongest hurricane to make landfall in Florida's Big Bend region in more than 125 years. The animation shows the evolution of Idalia and Franklin from August 28th until August 31st.
In the infrared AIRS images and animation above, the large purple areas indicates very cold clouds carried high into the atmosphere by deep thunderstorms and associated with heavy rainfall. Warmer areas with shallower rain clouds are shown in blue and green. The orange and red areas represent mostly cloud-free air.
An image is also shown from the afternoon of August 30th that is taken at the same time as the infrared image but at visible wavelengths, by the Visible/Near-Infrared spectrometer that is included with AIRS instrument suite on NASA's Aqua satellite.
AIRS, in conjunction with the Advanced Microwave Sounding Unit, AMSU, senses emitted infrared and microwave radiation from Earth to provide a three-dimensional look at Earth's weather and climate. Working in tandem, the two instruments make simultaneous observations down to Earth's surface. With more than 2,000 channels sensing different regions of the atmosphere, the system creates a global, three-dimensional map of atmospheric temperature and humidity, cloud amounts and heights, greenhouse gas concentrations and many other atmospheric phenomena. Launched into Earth orbit in 2002, the AIRS and AMSU instruments fly onboard NASA's Aqua spacecraft and are managed by NASA's Jet Propulsion Laboratory in Pasadena, California, under contract to NASA. JPL is a division of the California Institute of Technology.