Hurricane Ivan as Observed by AIRS 2004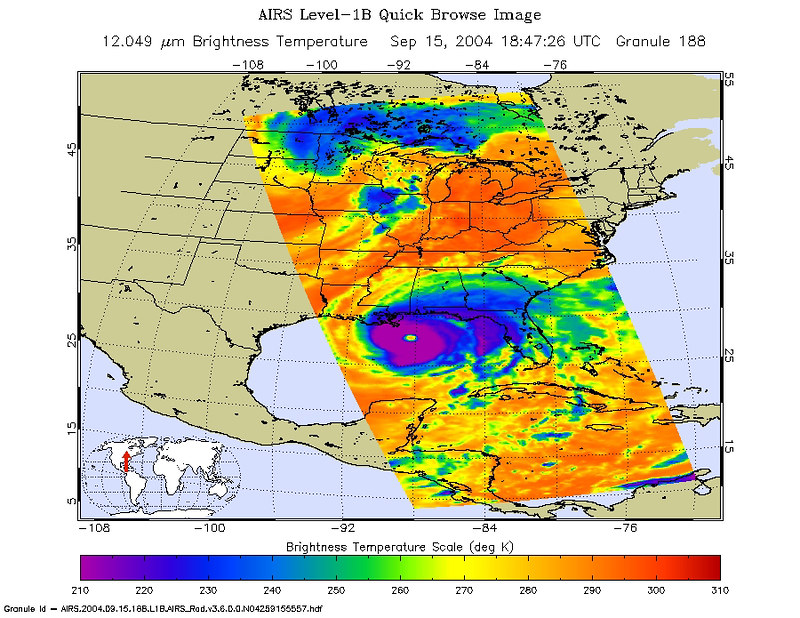 Source: NASA/JPL AIRS Project
Published: July 9, 2019
Hurricane Ivan is the most powerful hurricane to hit the Caribbean in 10 years. On September 7 and 8 it damaged 90 percent of the homes in Grenada and killed at least 16 people as it swept over Grenada, Barbados and the other islands in the area. By Thursday morning on September 9, Ivan's sustained winds reached 160 mph making it a rare category 5 hurricane on the Saffir-Simpson scale. By Monday September 13, Ivan is blamed for 67 deaths and skirts western Cuba with winds clocked at 156 mph. The National Hurricane Center predicted the eye of Ivan will make landfall across Mobile Bay in Alabama late Wednesday or early Thursday.
These images of Hurricane Ivan were acquired by the AIRS infrared, microwave, and visible sensors on September 15 at 1:30 pm local time as the storm moves in to Alabama. Ivan at category 4 strength is about 150 miles south of Mobile, Alabama and is moving north at 14 mph. Maximum sustained winds are reported to be at 135 mph and extend 105 miles from the center, while tropical storm-force winds extend 290 miles from the center. Ivan pounded the Gulf coast all day Wednesday, and is expected to make landfall between midnight and 3am in Mobile Bay, Alabama.
This image shows how the storm looks through an AIRS Infrared window channel, and reveals a very large eye - about 75 km (50 miles) across. Window channels measure the temperature of the cloud tops or the surface of the Earth in cloud-free regions. The lowest temperatures are associated with high, cold cloud tops that make up the top of the hurricane. The infrared signal does not penetrate through clouds, so the purple color indicates the cool cloud tops of the storm. In cloud-free areas, the infrared signal is retrieved at the Earth's surface, revealing warmer temperatures. Cooler areas are pushing to purple and warmer areas are pushing to red.