Flooding Resulting From Hurricane Isidore: Difference image, Sept 12 and 28, 2002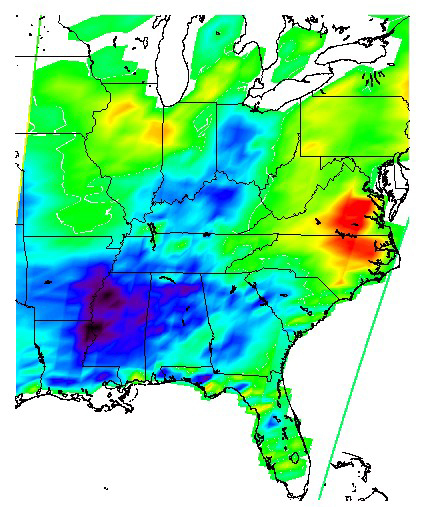 Source: NASA/JPL AIRS Project
Published: July 8, 2019
Tropical Storm Isidore was born in mid-September north of Venezuela. It subsequently hit Mexico's Yucatan Peninsula as a Category 3 hurricane and came ashore near New Orleans on September 26th packing winds just below hurricane strength. Around the time of September 27, 2002, the storm was downgraded to a tropical depression as the system moved into Tennessee.
At the time the Aqua spacecraft first passed over Isidore, it was classified as a Category 3 (possibly 4) hurricane, with minimum pressure of 934 mbar, maximum sustained wind speeds of 110 knots gusting to 135 knots, and an eye diameter of 20 nautical miles. Isidore was later downgraded to a Tropical Storm and then a Tropical Depression as it lost energy.
This image was made with data from the microwave component (AMSU-A) of the Atmospheric Infrared Sounder on NASA's Aqua satellite. The Aqua satellite has an exact 16-day repeat cycle which gives exactly the same coverage of Earth, making it possible to obtain a difference image. This image is the difference between data collected on September 12, 2002 and September 28, 2002. In the difference image, white indicates no difference at all, green is very little difference, blue/purple indicates primarily heavy flooding. Red indicates warming likely due to warmer weather. The straight lines on the right and left edges of the difference image are caused by slight differences between the two repeat passes of Aqua.
View companion images for this map:
Flooding Resulting From Hurricane Isidore: Comparing data from Sept 12 and 28, 2002