Sulfur Dioxide Detected After Tonga Volcano Eruption in 2022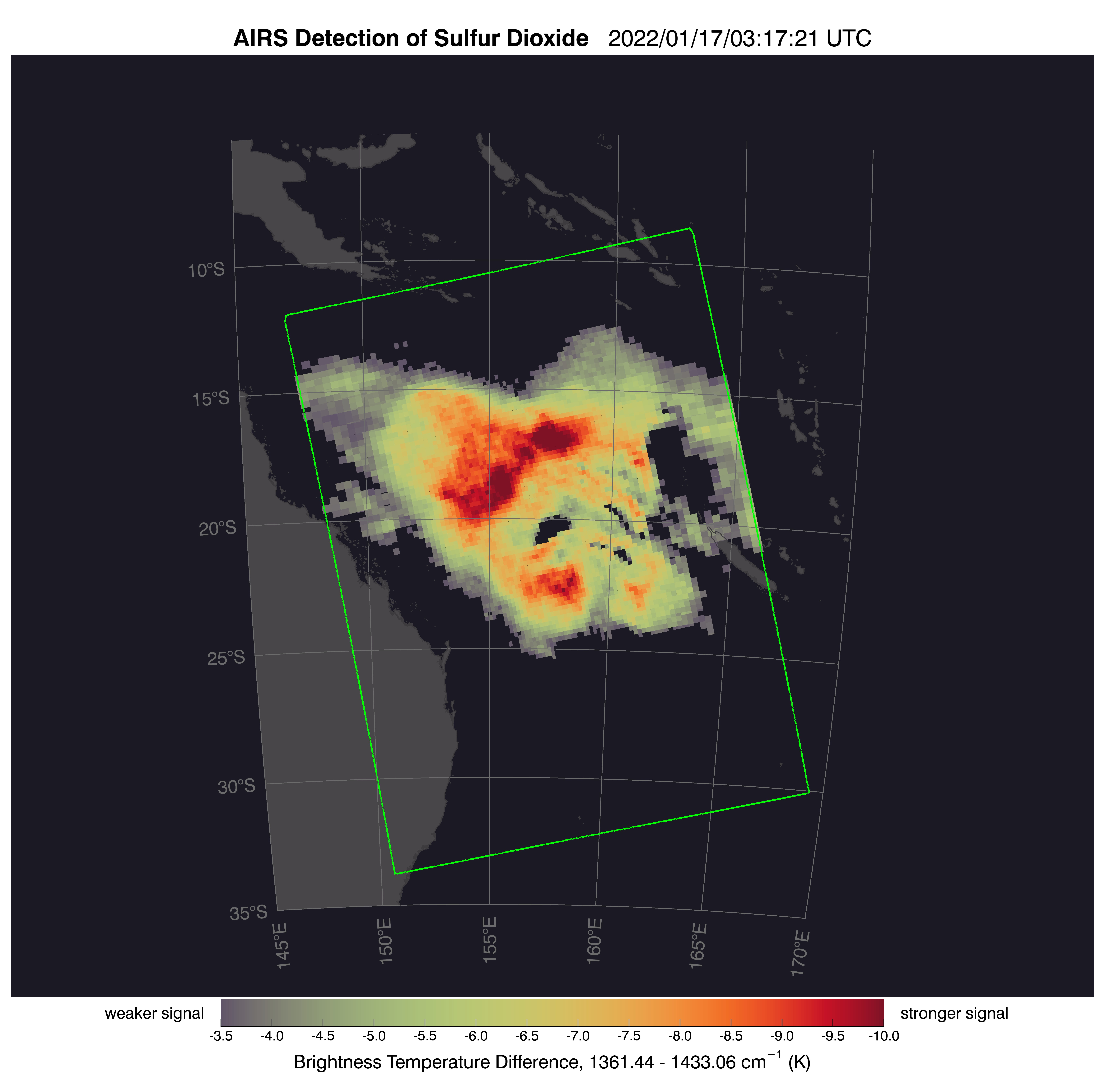 Source: NASA/JPL-Caltech
Published: June 6, 2022
This image shows a detection of sulfur dioxide (SO2) in AIRS data taken about two days after the powerful eruptions of the Hunga Tonga-Hunga Ha'apai volcano in January 2022.
Volcanic eruptions can release large volumes of sulphur dioxide gas and pulverized rock known as volcanic ash. Sulfur dioxide browse products derived from AIRS observations can indicate the possibility of volcanic activity, but more detailed analysis is required to confirm the presence of volcanic clouds or estimate the composition and quantity of materials in the clouds.
Sulfur dioxide brightness temperature difference is calculated by differencing the values reported between two AIRS channels, one that is sensitive to SO2 and one that is not. Larger differences imply greater SO2 absorption, which in turn implies a stronger volcanic signal.
Applications of AIRS data to monitor volcanic activity are described here: https://airs.jpl.nasa.gov/applications/volcano/
Further details can be found on the AIRS Rapid Response system archive page for this plume: https://airs.jpl.nasa.gov/volcanic_plumes/137/
More examples of AIRS observations of the Tonga volcano eruptions in January 2022 can be found in this story: https://airs.jpl.nasa.gov/news/184/airs-observations-of-the-tonga-undersea-volcano-eruptions-in-january-2022/