Fall 2018 NASA Sounder Science Team Meeting
October 1, 2018 - October 5, 2018
Greenbelt, Maryland
---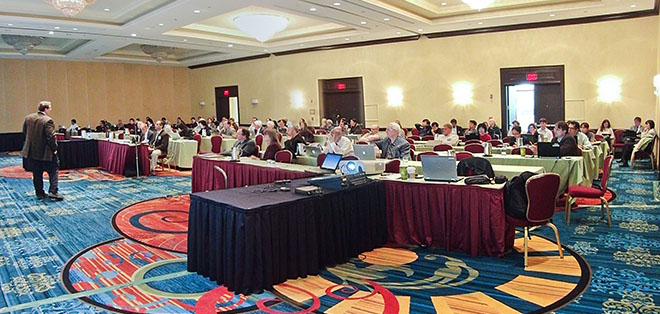 About the FALL 2018 meeting
We invite you to participate in the NASA Sounder Science Team Meeting to take place Monday, October 1 through Friday, October 5 at the Crowne Plaza Hotel (formerly the Greenbelt Marriott) in Greenbelt, Maryland.
We anticipate the first two days of the meeting will include a mini-workshop on planetary boundary layer (PBL) sounding.
These annual meetings are an excellent opportunity to present the latest science and technology findings related to atmospheric sounding, from current instruments (including AIRS, IASI, CrIS, AMSU and ATMS) and from potential future instruments and missions. The meeting provides an opportunity to share your work and interact with others in the field.
We look forward to seeing you in October.
Dr. Joao Teixeira
AIRS Science Team Leader, NASA/JPL
Thomas S. Pagano
AIRS Project Manager, NASA/JPL
---
REGISTRATION
There is no fee to register. To insure you will have a pre-printed badge, please register by Monday, September 10.
---
PRESENTATIONS
If you would like to make a presentation, please email a title and short abstract to Judy Greenberg at Judy.Greenberg@jpl.nasa.gov by Monday, September 10. Please let us know if you would like your presentation to be part of the PBL sounding mini-workshop.
---
TRAVEL AND ACCOMMODATIONS
The meeting will be held at the Crowne Plaza Hotel Greenbelt–Washington DC (formerly the Greenbelt Marriott). Please note attendees must book their own travel and accommodations. Travel expenses (airfare, lodging, etc.) are not reimbursable. In addition to the Crowne for accommodations, there are many other hotels in the area.
Crowne Plaza Hotel Greenbelt–Washington DC
6400 Ivy Lane
Greenbelt, Maryland 20770
Hotels in the surrounding area
---
PRESENTATIONS ARCHIVE
Our archive of science team meeting presentations is available in the Resources section of the AIRS web site.