NASA Sounder Science Team Meeting
September 13, 2016 - September 16, 2016
Greenbelt, Maryland
---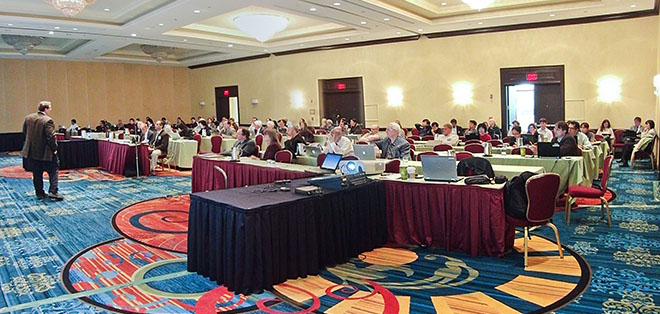 About the meeting
We invite you to participate in the NASA Sounder Science Team Meeting taking place Tuesday through Friday noon, September 13-16, in Greenbelt, Maryland at the Greenbelt Marriott Hotel. This annual Fall meeting is an excellent opportunity to hear the latest findings from atmospheric sounding instruments including AIRS, IASI, CrIS, AMSU and ATMS. It also provides an opportunity to share your work and interact with others in the field. [NASA attendees: This event has been deemed programmatic, please do not forecast as a conference.]
We hope to see you at the September meeting,
Joao Teixeira
AIRS Science Team Leader, NASA/JPL
Thomas S. Pagano
AIRS Project Manager, NASA/JPL
---
Registration
There is no fee to register for the meeting. To insure you will have a pre-printed badge, please register by June 13, 2016 using the link above.
---
Presentations and Posters
If you would like to make a presentation or display a poster, please indicate your preference and email the title and abstract to AIRS Project Secretary Angela.Smythe@jpl.nasa.gov by June 13, 2016.
---
Meeting Venue
Greenbelt Marriott Hotel
6400 Ivy Lane, Greenbelt Maryland 20770
---
Travel and Accommodations
Attendees must book their own travel and accommodations, and travel expenses (airfare, lodging, etc.) are not reimbursable. A group rate for the Greenbelt Marriott Hotel is available by clicking the link below.
Book your group rate for NASA Sounder Science Team Meeting
---
Past Presentations
Our archive of science team meeting presentations is available in the Resources section of the AIRS web site.
view presentations